Storm Damage and Hail Roof Repair in Denver Areas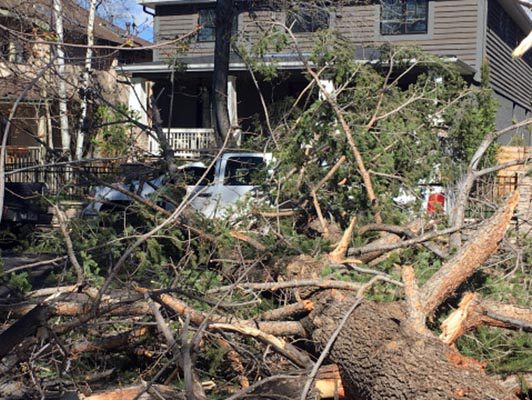 Your home's roof is subject to a lot of beating throughout the year. Storm and hail can cause severe damage to your property and roof. Especially in areas like Denver, Colorado where storms and hailing take place often, damage the roofs of a lot of homes and buildings. Many factors can affect the longevity of a roof. To repair and protect your home from future storm and hail damage, you should contact a professional roofing contractor. They will be able to understand what caused the damage and come up with ways to repair your roof. JRC Exterior Solutions offer their services throughout the Denver Metro Area and beyond. Not only do we offer repairing roofs and gutters, but we can also replace damaged windows and more. We are known for offering outstanding storm roof repair services in Denver. When severe storms impact your home's exterior, we can tackle all your wind damage, storm damage, and hail damage repair concerns QUICKLY and AFFORDABLY.
Storms and Hailing in Denver Areas
This year the weather in Denver alone has been extremely terrible. Storms and hailing can cause a lot of damage to the roof and the interior of the house, if not inspected and remedied quickly. You may notice water spots on the ceiling or buckling. Following are some of the signs that you may across that would prove that your roof is damaged:
Shingle condition
Loose or pealing sealant
Missing flashing
Water damage
Once you notice any of the above signs in your roof, make sure to get in touch with a roofing contractor to get your roof inspected and repaired.
Different Roofing Types
There are different roofing types offered by JRC Exterior Solutions.
It is the most common type of residential roofing system. There are various style and color options available in this roofing system. It will beautify your home and is stain resistant.
Metal Roofing Contractor
It provides more longevity and protection as compared to the shingle roofing system. There are different styles and colors available in the metal roofing systems also.
Tile Roofing Contractor
It is installed in fine homes and buildings as it has more longevity. This roofing system will compliment your home.
Slate Roofing Contractor
Slate roofing system remains intact for a very long period and will protect your home from hail damage and wind storms. This kind of roofing system requires low maintenance, and it lasts for decades.
Hire a Trusted Roofing Contractor
If you live in near the Denver Metro Area and your home was subjected to wind storms and hails, and you want to get your roof repaired, then you need to get in contact with a trusted roofing contractor that can help in repairing the condition of your roof with their latest techniques. JRC Exterior Solutions are known for providing the best residential and local commercial roofing services. They are highly rated roofing contractors in Denver and are trusted in the roofing industry. Re-roofing can be a hard job and can create a lot of mess, but with JRC Exterior Solutions' common sense tactics, you won't have to worry about anything.
Check Your Roof for Storm Damage
How do you know if your roof is damaged or not? Before calling a roofing contractor if you want to be sure whether your roof is damaged from a storm, you will have to follow the steps mentioned below:
Firstly you will have to look for any visible damage signs from the ground. Check for any missing shingles or any metal flashing surrounding chimneys. Make sure to check the exhaust piping or vents for damages.
Next, go to the attic and check whether there are any leaks, then look for water spots on the walls or ceilings of your home. Leaks and water spots is a huge sign that your roof got damaged in a storm.
If there are any dents in the shingles, then it is a sign that your roof got damaged due to the hail produced in a storm. You may also find bits of material broken from shingles lying around.
If all these signs are available, then wait no longer and call a trusted roofing contractor such as JRC Exterior Solutions to get your roof repaired.
Damage Caused by Wind
Thunderstorms, hurricanes, and tornadoes can cause severe wind damage to your roof. Your roof can get damaged by wind in two different ways. These winds may either blow off the individual shingles or cause a single shingle to go missing, which can cause leakages. There are times when the wind is so strong that is blows off the entire roof. It occurs due to the difference in air pressure above and below the roof. The air pressure above the roof is low and below the roof is high, which causes a lift to the roof, which is why the roof gets pulled outwards and gets blown away. This difference in air pressure is also the cause of the bursting of windows during storms.
Roof Damage Caused by Hail
Roofs tend to get damaged then the hail reaches 1 inch in diameter. What does hail damage look like? It usually looks like there are little pockmarks or dimples on your shingles. Hail damage can cause damage to shingles that can result in breaking off bits of materials from the shingles. The extent of damage caused by hails depends upon the diameter of hails and for how much time it was hailing. A sustained hailstorm can cause severe damage to your roof, which will require extensive repair. Most of the time, customers also end up getting a full replacement due to the extent of the damage caused. Even though metal roofs are weather-resistant, but if the hail is large then they cause dents in metal roofs as well. Make sure to inspect your roof for any dents after a hailstorm so you can get your roof repaired before it gets too late.
How Can You Prevent Your Roof from Blowing Off
If one or more shingles go missing, then it can result in the roof getting blow away. Another reason that can cause the roof to be blown off in high winds which creates a difference in air pressure below and above the roof. However, damaged shingles can create more damage to your roof then high winds. It is extremely crucial to keep an eye on the shingles. As soon as you notice any shingle is missing, make sure to get it reinstalled. What makes it obvious that a shingle is damaged? If you notice that the shingles have curled around from the edges, then it is a sign that they need to get replaced. Already damaged shingles can cause your roof to be blown away in heavy wind and storm. Thus, if your shingles are in good condition, then your roof will remain safe during a storm. It is always better to prevent a situation from happening than having to repair the damage caused by it. Make sure to regularly check the average wind speed and install shingles that can tolerate high winds.
Get Insurance for a Damaged Roof
Getting a damaged roof repaired can be a bit expensive. However, when you get your home insurance, the damage would be covered by it in case an inevitable incident occurs. It may include vandalism, fires or an event that took place due to the 'acts of God' including winds, storms, hails, etc. There are different kinds of insurance plans, so make sure that your insurance plan covers roof damage. You can provide before and after pictures of your property to ensure the insurance company that your roof was damaged from an act of God. These pictures will help in strengthening your insurance claim. Filing an insurance claim is a complicated process, especially if it is for a damaged roof. However, you don't have to worry as JRC Exterior Solutions will help you in getting a fair deal.
Conclusion
If your home has been hit by a storm, you have a small window of time before your minor emergency roof repair problems could become major headaches. When it comes to wind damage, hail damage, or any other weather-related roofing and siding issues, you need someone who will be able to address your concerns immediately and affordable.
Call JRC Exterior Solutions now for any storm damage repair, hail damage repair, or any other emergency repair needs for your roofing, gutters, siding, and windows. Ask about our roof inspections and comprehensive insurance claims assistance!