Commercial Window installations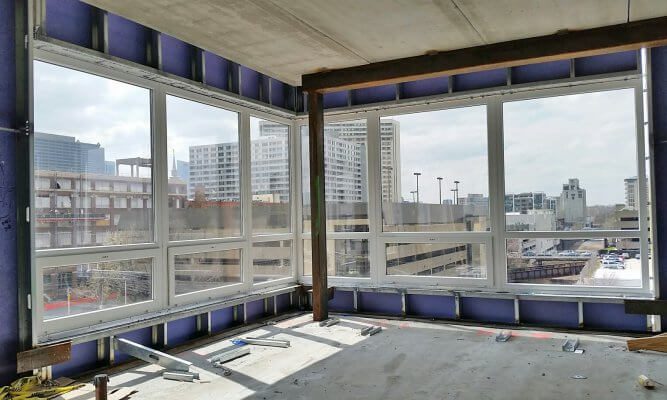 JRC Exterior Solutions is one of the most experienced and best commercial window installation contractors in Denver, Colorado. When looking for the perfect commercial windows to enhance your building's appearance, we can help you choose.
Several reasons may trigger the need to re-do your office windows. It could be due to the aging factor, breakage or just for the change of aesthetics. Whatever the case may be, making sure you get the best for your investment is extremely important.
When it comes to commercial windows, you have the convenience to choose from different kinds of frames and material depending on your needs. These may include wood, vinyl, steel, aluminum, fiberglass, and composite. Commercial windows are available in a wide variety of shapes, sizes, and designs. Frames that have been introduced in recent times are also economical, energy-efficient, weather-proofed, cost-friendly and easy to maintain. This implies you can significantly reduce your electricity bill by up to 50%.
Commercial Window Options
Bay windows or casement windows
These frames are simple and can easily match with the office theme. They protrude outside your building and give you more area to capture daylight. They are easy to operate, efficient and are also available in different matching colors to add a stylish touch to your office.
Awning Windows
If your window is in the attic, basement or in an area where it rains a lot, the Awning window is the commercial window to consider. It features a series of high hinged vertical sections that allow passage of air but stops rainwater and moisture from getting through.
Single-Hung Windows
These kinds of windows are a small sight in the Denver area. It consists of two panes attached horizontally. One pane is fixed (usually the top one) and the other is free to move up and down. It is an excellent option for those looking at traditional commercial window replacement options.
Double Hung Windows
They are similar to single-hung windows apart from the fact that both panes are moveable. If the Single-hung window represents the traditional commercial window, double-hung represents the modern version of it. It gives you multiple ventilation options plus ease of maintenance and upkeep.
Sliding Windows
This is the vertical version of hung windows. The door is fitted with glass and can slide either way depending on the design. It is one of the most used commercial windows in Denver, Colorado and its surrounding areas. It can also be seen in the residential setting making it an easy choice for all.
Customized Windows
These are the windows that you get designed yourself. This can be because of the peculiar nature of the space and area where the building is located. This type of commercial window must be installed by a professional. They will also advise you on the dos and don'ts of such a design.
Buying commercial windows in Denver Colorado
Does your project require commercial windows with a special color appeal, energy savings, and style? JRC Exterior Solutions can help you make the best decision based on your needs. Our range of commercial windows will help reduce your heating costs, and your property will benefit from sound insulation and improved energy conservation. The windows are durable, secure, and require less maintenance.
Commercial window installation
Once, you have purchased a window for your business building, it is also important you get a professional to install it properly. Consider JRC Exterior Solutions, our team of professional window installers are well-experienced and will work according to your specifications.
We have installed commercial windows for several different buildings, including historic buildings, new buildings, and existing ones. Each window installation is exceptional, and we have the expertise to assure that your project is unique and your windows will suit your building.
Our service areas include Denver, Colorado and its surrounding areas such as Brighton, Highlands, Lakewood, and Ft Collins. At JRC Exterior Solutions, we aim to complete every installation using top quality materials and ensure you are satisfied with the final result.
Book an appointment with us today and let's further discuss your project needs.